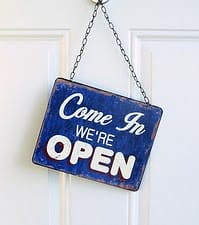 Local marketing includes:
Setting up your website to make it clear where your service areas or physical locations are.
Helping you get found in local search, which is distinct from search in general.
Getting your company into the places in social media where people talk about local businesses.
If you're a brick and mortar, or if you deliver a service only to a specific field, your local marketing matters.
Various services are available to utilize in your online local marketing.
Local Search Listings
How is local search different than regular web search?
Local Search is map based – ranking is based on your known categories, description and reviews, as well as on your physical location in relationship to the searcher's location.
In regular web search, you cannot add a listing, you cannot choose categories or descriptive text, nor can you edit your regular search listing.
Local Search is unrelated to web results – It's not about whether you have a website or not – instead it's centered around your local listing for your products or services. There is no requirement to have a website and it's not part of the ranking. All you need is a physical location or a region that you service.
Obviously, you cannot show up in regular web search without a website.
Local Search allows you to claim and manage your listing – You can measure the success of your local listings through the search engine, how many people clicked through from the search results, or printed a coupon, or any other action you have set up within your listing management center. Claiming your listing requires verification that you actually are on location at your physical address.
Local search is very important for small businesses with physical storefronts (such as salons, boutiques or restaurants) or that offer services to a specific region (such as plumbers, handymen or inspectors).
Local Marketing
Running a 'Sponsored Listing' in Local Search means paying a subscription fee to show up more prominently in the local search results mentioned above. You don't have to have a website to use this option.
Running local Pay-per-click  ads means paying for placement of ads alongside web search results in your local area. In order to do this you must have a website.
There are also other options for marketing locally, such as click to call ads, targeting specific websites through the content network that are primarily visited by people in your area.
Building a starter website
If you don't already have a website, we can get you started with something representative and professional for very reasonable rates.
Here is some basic advice on local marketing misconceptions.
Contact us for help with your local marketing. As a location-based business, your local marketing can help new potential customers find you.